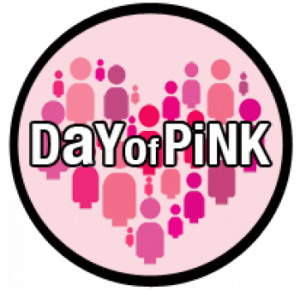 Celebrated annually around the globe, Pink Shirt Day began in Canada in 2007 when two students, David Shepherd and Travis Price, took a stand against homophobic bullying after a grade 10 student was harassed and threatened for wearing pink. David and Travis bought dozens of pink shirts and distributed them to their male classmates to wear the next day. The word got out online and hundreds of students showed up in pink, some from head-to-toe, to stand together against bullying.
Bullying often makes people feel alone, but Pink Shirt Day shows that many people care. Many people want to play their part in making our community a safe, welcoming and respectful place for everyone, regardless of age, sex, gender identity, sexual orientation, ability, or cultural background.
It was a very ordinary day in 2004. Louise Russo walked into a shop to get a sandwich for her daughter and it was the last time she would ever walk again. The mother of three was the innocent victim of a violent crime, when a single bullet shattered her spine and left her paralyzed forever.
Mrs. Russo was determined that this senseless act of violence would have a positive outcome and created a grass roots not-for-profit organization, Louise Russo W.A.V.E. (Working Against Violence Everyday), that received its charitable status in 2009.
Mrs. Russo works diligently at inspiring youth and members of the community to take action, make positive choices and initiate projects that will make their schools and communities a safer place to live, learn and play.
On Wednesday February 22 Blessed Trinity goes pink! Staff and students are encouraged  to wear an item of pink clothing (i.e., t-shirt, pant, tie, hat, etc.). The day will be designated a Civvies Day. Everyone is encouraged to purchase a Terra Cotta heart shaped cookie as a donation in support of  Louise Russo Women Against Violence Everywhere (W.A.V.E.).