Back to School Resources
School News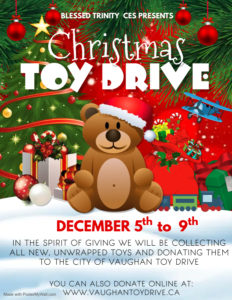 Dear Blessed Trinity community,
'Tis the season of giving and this Christmas, Blessed Trinity and the Luke 4:18 committee will be holding a Christmas Toy Drive from December 5th-December 9th. We will be collecting all new, unwrapped toys and donating them to the City of Vaughan Toy Drive. The Luke 4:18 committee will be collecting all toys from classrooms during the week of ... Continue reading "Christmas Toy Drive"
Board News
As a part of the Province of Ontario's efforts to support learning recovery in response to the COVID-19 pandemic, funding has been allocated to our schools to implement tutoring support programs in literacy, numeracy and foundational learning skills.
Schools are developing and offering programs to provide students tutoring opportunities during a variety of time slots and formats to meet the learning needs of ... Continue reading "Tutoring Programs Available at the York Catholic DSB"
November 16, 2022
Dear Families of the York Catholic District School Board,
Earlier today CUPE served notice that they could resume their job action as soon as Monday, November 21, 2022.
In the event of a strike, York Catholic DSB will move to synchronous virtual learning on Monday. Schools will maintain their regular daily learning schedules. St. ... Continue reading "Update re: Possible Strike on Monday, Nov. 21"
The York Catholic District School Board worked closely with its partners at the Ministry of Education, York Region Public Health, and with Board staff to prepare for the return to school in September. By aligning our practices with their guidance, we are confident our schools will continue to be safe, inclusive places to learn and work throughout the 2022-2023 school year.